Title:
Characterization of carboxylate nanoparticle adhesion with the fungal pathogen Candida albicans
Author:
Amy Lyden, Lisa Lombardi, Wilfried Sire, Peng Li, Jeremy C. Simpson, Geraldine Butler, and Gil U. Lee
Subjects:
Catalog
;
Works
Is Part Of:
[Peer Reviewed Manuscript]
Description: Candida albicans is the lead fungal pathogen of nosocomial bloodstream infections worldwide and has mortality rates of 43%. Nanoparticles have been identified as a means to improve medical outcomes for Candida infections, enabling sample concentration, serving as contrast agents for in vivo imaging, and delivering therapeutics. However, little is known about how nanoparticles interact with the fungal cell wall. In this report we used laser scanning confocal microscopy to examine the interaction of fluorescent polystyrene nanoparticles of specific surface chemistry and size with C. albicans and mutant strains deficient in various C. albicans surface proteins. Carboxylate-functionalized nanoparticles absorbed mainly to the hyphae of wild-type C. albicans. The dissociative binding constant of the nanoparticles was ~150, ~30 and ~2.5 pM for 40, 100 nm and 200 nm diameter particles, respectively. A significant reduction in particle binding was observed with a Δals3 strain compared to wild-type strains, identifying the Als3 adhesin as the main mediator of this nanoparticle adhesion. In the absence of Als3, nanoparticles bound to germ tubes and yeast cells in a pattern resembling the localization of Als1, indicating Als1 also plays a role. Nanoparticle surface charge was shown to influence binding –positively charged amine- functionalized nanoparticles failed to bind to the hyphal cell wall. Binding of carboxylate-functionalized nanoparticles was observed in the presence of serum, though interactions were reduced. These observations show that Als3 and Als1 are important targets for nanoparticle-mediated diagnostics and therapeutics, and provide direction for optimal size and surface characteristics of nanoparticles that bind to the fungal cell wall.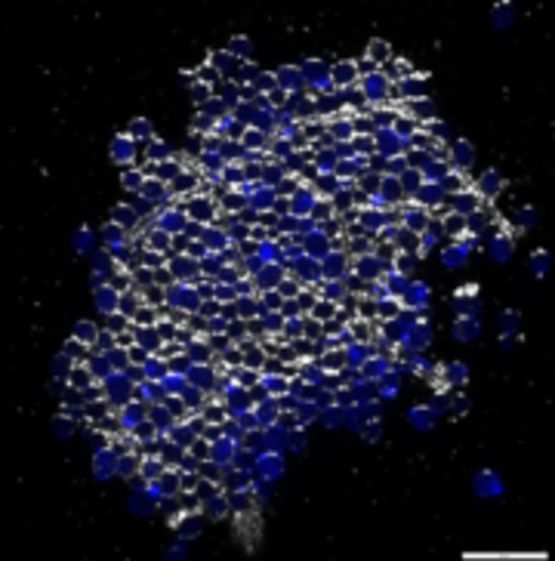 Dark field - fluorescence microsocpe image of Candida (blue) collected with Magnostics 800 nm, carboxyl coated beads.
A Lyden, L Lombardi, W Sire, P Li, JC Simpson, G Butler, GU Lee
Nanoscale 9 (41), 15911-15922